Where to Eat Best Fried Chicken in Belgium?
Chicken is the only food to bring pleasure to the masses worldwide; therefore, you can find a chicken dish at almost any restaurant. It has so many varieties that everyone can see the type of cooking they like. However, things get a little more delicate when it comes to fried chicken. From the sauces to the oils used, fried chicken needs special treatment before being served most deliciously and healthily.
Brussels has many spots that serve chicken wings, burgers and, wraps. You may have already tried a couple of them. This time, you are lucky to find the taste you are looking for. As Belchicken, we are dedicated to offering the best fried chicken in Belgium.
Unlike most other brands, we prepare home-banded chicken products that make healthy and delicious fried chicken. We use local ingredients and recipes unique to the heart of Europe. The Belgian sauces in our products present a fantastic experience to our clients. That's why we have the best-fried chicken in town.
Delicious Fried Chicken Menus
Belchicken never falls short of satisfying all the taste buds. We are glad to serve the most delicious fried chicken in the form of chicken wings, burgers, tenders, hot wings, and more. We prepare all our menus just the way you like.
If you are out for a perfect diner, we suggest the chef's menu as satisfying. Or try our chicken buckets and enjoy a delicious and enjoyable mealtime. As an accompaniment, choose among the special grilled chicken salad and fried chicken salad special to Belchicken.
We also serve chicken wraps, and falafel wraps with crispy fries and healthy vegetables. They all come with a drink of your choice, too. Don't forget to taste our mozzarella sticks, chili cheese, and onion rings as perfect side dishes. If you feel like mixing tastes, we offer all healthy beef and fish burgers for a change. What makes Belchicken different from others is the variety of food we offer at reasonable prices.
Belchicken Menu: https://belchicken.com/menu/
Excellent Flavor with Great Fried Chicken
We place great emphasis on how we make our food. What makes the fried chicken we prepare so tasty is how we bring together the many flavorful herbs. Thanks to our local sauces, we are able to offer the most delicious crispy chicken in the town. We aim to serve our customers the number one healthy and tasty fried chicken with all-natural ingredients and herbs.
We are aware that the perfect chicken takes time. For this reason, we devote ourselves to preparing all crispy and meaty fried chicken with great care. At Belchicken, we are happy to offer chicken wings with a super crunchy exterior and moist inside. In the end, we are proud to serve our customers the finger-licking chicken that will make you ask for more.
Special Fried Chicken Menu for Kids
We are glad to host families with children every day. If you want to reward your children with fried chicken outside, we make it easy for you by offering the best kids' menu at Belchicken. We know that children can be picky eaters. Therefore, the kid-friendly chicken menu we offer includes the tastes they would crave for. They will love our special kid-box with healthy burgers, crispy nuggets, and bites. The yummy mozzarella sticks and crispy fries will add extra joy they will spin for.
Thanks to the Belchicken menu, you don't need to worry about your kids. Bring your family and friends no matter how far you are. The cozy atmosphere will make them feel at home while you are enjoying the best chicken wings ever. Don't worry; everyone will find the perfect food for their taste buds.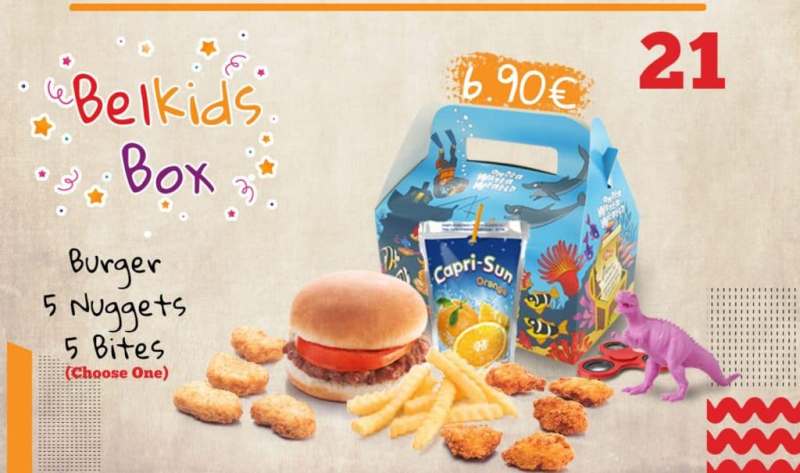 If you are craving fried chicken, there is a place you may call home in the heart of Europe. As Belchicken, we are determined to be the number one spot by offering Belgium's most delicious and healthiest chicken.
See the full fast-food menu; be our guest for the best-fried chicken for your family and friends.